June 4th, 2008 by Peter Slutsky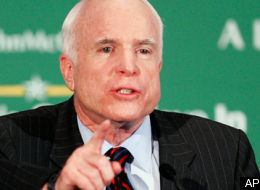 One of the things that I'm most excited about in this upcoming battle between Obama and McCain is the marked differences in look, presentation, style and delivery.
McCain is old (I'm don't mean that in an offensive way, he is literally old), his speaking style is mundane and dry, his humor doesn't always come across to his audience and his presentation is just generally lacking. Now, this is my opinion, but I have had the opportunity to hear Sen. McCain on the stump in the lead-up to the New Hampshire primary, so I do have a good perspective.
Now, juxtapose McCain's style with Obama. His oratory is one of his most notable characteristics. He thrives off a large audience and he delivers soaring speeches with ease. He's young (I don't mean that in an offensive way, he is literally young), and he looks the part of a leader.
This dynamic is going to play out over and over throughout this general election campaign – in the debates, town hall meetings, television ads, etc.
When Obama and McCain are on stage together, there will be a clear difference in the way these two candidates present their ideas, and it will be interesting to see how that dynamic plays out in the press, as well as with voters
Take last night for example. It had been reported that McCain spent three weeks preparing to make a speech on the eve of Obama's nomination. His team chose New Orleans as a perfect place to layout his vision for this campaign and for America in the years to come. However, something happened on the way to the podium…This great video from our friends at Talking Points Memo says it all. Enjoy.